A wedding comes with many expenses, and having someone help cover them is one of the most generous things a couple can ask for. Many costs go into a wedding because you have more than the big day to consider, and in this guide, we'll cover:
Pre-wedding parties
The rehearsal dinner
The wedding day
According to wedding tradition, specific individuals cover the prices for each of these events. With this budget breakdown, you can easily determine who pays for what on the big day and the celebrations leading up to it.
Who Pays for Pre-Wedding Parties?
Before we get into all the expenses of the big day, we should talk about those pre-wedding parties so you can budget your wedding funds properly. You'll have many parties to think about, including an engagement party, the bridal shower, and your bachelor/bachelorette parties. So knowing how to budget your wedding is vitalto ensure you have enough money for all the fun parties and events.
The Engagement Party
Your engagement party is a great way to begin the new chapter and celebrate the proposal. Plus, it's a chance to show off that dazzling ring your sweetheart proposed with! Most of the time, the bride's parents pay for the engagement party, but a close friend of the couple may handle the hosting duties.
Bridal Shower
For a long time, partners didn't live together until after getting married, so the bridal shower was the best way to get the many things needed for their new home. Today, many couples live together before walking down that aisle, but there are still plenty of things they need.
So who pays for this party? Simple—the host. If the bride's mother wants to take charge, she covers the expense, but if the Maid of Honor wants to handle the responsibility, she will. The Maid of Honor may also share responsibility with the other bridesmaids; in this instance, they all split the bill.
Bachelor and Bachelorette Parties
It's customary for the wedding party to cover the expense for themselves and split the cost of the bride's or groom's expenses, depending on the party.
The Maid of Honor typically handles most of the planning for the bachelorette party. The MOH and bridesmaids will split all the costs for the bride, such as transportation, food, drinks, and stay if it's a weekend trip.
In exchange for their generosity, the bride will buy her besties a thank you gift, which she usually gives them at the rehearsal dinner. This same etiquette also applies to the groom and his groomsmen; they'll throw his bachelor party, and he gives them a wedding-party gift.
Bridal Tip
Buying gifts for your wedding party allows you to repay their kindness and show your top supporters how much you love them. There are many amazing bridal party gifts you can give to them, such as:
A getting-ready outfit
Candles
Jewelry
Some brides also mix and match various ideas so they can give their besties a real bag of goodies! The gift you provide should be something special that you've put thought into to show how much you care. You can do this by adding a monogram or other personalization. Some brides even order custom-scented perfumes for their bridal party.
Who Pays for the Rehearsal Dinner?
The rehearsal dinner lets the couple see their vision play out before the special day. This can help shake those pre-wedding jitters! Typically, the groom's parents pay for all costs that go into a rehearsal dinner and host it.
Who Pays for the Wedding?
The moment is here, or at least all those prices are. So, let's discuss who pays for what on the big day! To make things easier, we've broken down the wedding expenses for:
The parents of the bride
The parents of the groom
The bride and groom
This makes it easier for you to jot down which expenses you'll traditionally cover based on your role in the wedding. But before we dive into that, remember that nothing and no one is stopping you from offering to pay for areas beyond your traditional scope.
The Bride's Parents
Let's begin this conversation by covering a few of the many things that the bride's parents usually pay for, which include:
The wedding dress
Wedding transportation
Photographer and videographers
Caterers
The cake
Entertainment
Décor and flowers for tables
We often say that the bride's parents pay for the entire wedding, but technically speaking, that's not true. They cover many expenses, especially those with the highest price tag, but not everything.
The Reception
After a beautiful ceremony, it's time to party! In addition to the costs of the ceremony, the bride's family usually pays for the reception. Wedding prices have gone up over the years, and for some parents, covering the many costs of the ceremony plus the reception is unaffordable.
Luckily, times have changed, and it's not uncommon for the groom's parents and other relatives to help cover the costs so no one has to feel like they'll go into debt paying for the wedding.
The Groom's Parents
Sometimes, the groom's family doesn't pay for much or anything on the big day. But nowadays, that's less common since many couples have decided to ditch traditions. For a modern spin on things, the groom's parents may offer to help pay for alcohol at the reception or other party costs.
Traditionally, the groom's parents also pay for the little solo party after the reception—the honeymoon or overnight stay.
The Bride and Groom
Even the bride and groom have items they typically cover, which are more exclusive to themselves than the ceremony or reception. They'll pay for one another's rings as well as gifts for the wedding party, their parents, and one another.
The bride also pays for her hair and makeup and may cover it for her bridesmaids. Whether she pays often depends on whether she requires her loyal friends to have a professional do it. On the other hand, the groom pays for the marriage license, the officiant, his bride's bouquet, boutonnieres, and corsages.
Keep in mind that this is a tradition that started long before couples lived together pre-marriage. If you already live together, there's a good chance you share living expenses like groceries and rent. However, you can still follow this tradition if you'd like to since you still have your separate bank accounts and credit cards.
A Modern Approach
Remember that there is no set rule on who pays for each item for the wedding. Sometimes, the couple covers most of the expenses because they can easily afford it or want something expensive. Other times, the groom's parents help their in-laws pay for the many things that go into a wedding.
Sometimes, these rules feel outdated to a couple, especially in LGBTQ+ relationships where there may not be a traditional bride or groom role. And in these instances, the parents still help pay for the wedding.
In an ideal world, both parents help the beautiful couple cover the many expenses of a wedding. With two families paying, it's easier to bring the couple's vision into reality since there's more money to play with.
The best deal occurs when the couple and both sets of parents contribute some cash. This modern wedding approach prevents anyone from feeling guilty or otherwise bad if the bride and groom want an extra-extravagant event.
Saving Some Money
Discovering ways to save money always comes in handy, and for your wedding, it makes it easier for you to splurge on your big-ticket items. Try negotiating with your vendors about their prices to get the best value and not overpay for a service. You should also get quotes from various vendors, so you can compare prices alongside whoever's paying for it.
Budgeting is vital, even if someone else offers to cover the many prices. You'll still have a set amount of money to work with, and you don't want to go over budget to get what you want. Doing this can lead to hurt feelings or disagreements. Weddings are all about family and love—no expense comes above that.
Asking for a Parent's Help
Asking someone for money is never easy, and you may even feel uncomfortable, but it doesn't have to feel that way. You shouldn't ask your parents, "Are you paying for my wedding?" out of the blue. Instead, have a conversation about the subject and let things unfold naturally.
Invite your parents over to talk about the wedding and begin by talking about how excited you are. From here, you can start looking into and discussing costs. While doing this, you can ask them if they could chip in some money, but explain that you plan to pay too.
Some parents will offer to kick in money or pay for almost everything immediately, but others need to consider it. If your parents fall into the latter category, that's perfectly fine. Give them the time they need so they don't feel put on the spot or pressured. Weddings are a huge expense for everyone.
Bridal Tip
Don't have both sets of parents over at the same time, as this can be uncomfortable if one duo offers to pay but the other does not.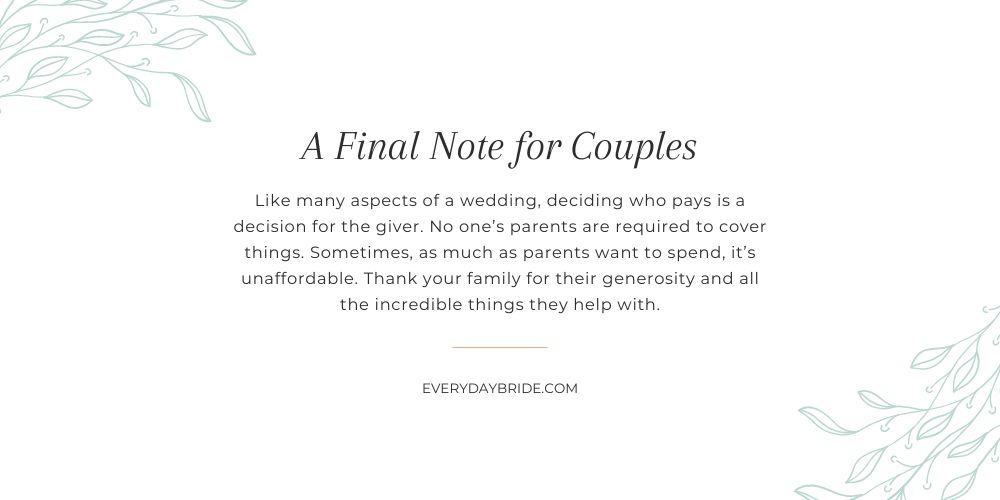 A Final Note for Couples
Like many aspects of a wedding, deciding who pays is a decision for the giver. No one's parents are required to cover things. Sometimes, as much as parents want to spend, it's unaffordable. Thank your family for their generosity and all the incredible things they help with.
After all, tasks like taking you on a day trip to relax or helping you send out countless invitations still come at a cost. It's time to start budgeting for your perfect day!